Wireless Projector Rental
Wireless Projector Rental
Dont forget, we rent projector screens too! Get a fast quote for a
Wireless Projector and Screen Rental
---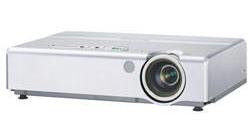 Wireless Projector Rentals
A wireless (WiFi) projector allows a computer user to wirelessly connect and display the computer video on a screen. Being capable of displaying one PC on many projectors or many PCs on one projector.
What can wireless projectors do?
1. Toggle between multiple computer sources with one click.
2. Allow users to present from any laptop in the room.
3. Allow one laptop to control multiple projectors.

Enjoy true freedom with the mobility of a wireless projector rental, by making presentations from anywhere in the room without having to hassle with cables.
Hookup couldn't be easier with with One-Touch "Auto-Everything" Set-Up found on Panasonic Wireless Projectors. All you need is a Wi-Fi wireless notebook computer and the software that comes with the wireless projector.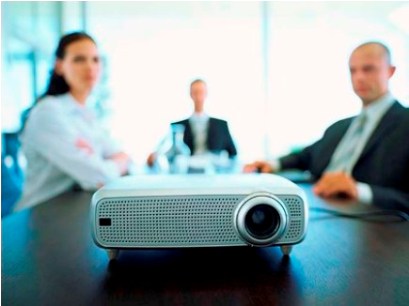 Presenter Perfect
Wireless solutions make your presentation look neat and organized. Wireless allows the flexibility of having the projector close to the screen with multiple users throughout the room. Presenters can be given permission to present on one projector or multiple projectors.
Wireless Projectors use 802.11 Technology
Panasonic, Mitsubishi, Epson, and others have wireless projectors that are available utilizing 802.11b/g. Projectors and computers connect without wires. With today's enhanced wireless functionality, you will enjoy the fastest transmission times. Virtually instantaneous data transmission from your notebook PC to the projector, even when moving large audio and video files. Wireless technology provides the flexibility needed to get more out of your presentations.
Wireless Projector News and Information:
Multiple presenters can make a presentation from a single projector, because wireless projectors allow up to 16 PCs to display simultaneously onto a single screen.
Also a single presenter can connect to multiple projectors with one computer:
If you have an impressive presentation, consider renting 2 or more wireless projectors. Bring your multimedia presentation to the next level by putting on multiple unique screens of your data and video presentation. For example: have animation on one screen and data on another!

Wireless projectors give you the ability to have multiple presenters display their presentation right from their own wireless laptop or computer.

Consider a corporate meeting with presentations for finance, operations, sales and marketing managers.

More information on wireless computer device rentals!

Going wireless with your next projector or laptop rental is easy with a Tech Travel Agent. Just tell us what you want to do wirelessly. We will provide everything you need without all the technical jargon.

Read more about how projector rentals are used for business presentations. and family reunions and events.
Rent a Laptop with your Projector
Fast Quote:
Laptop and Wireless Projector Rental

A combination that is tested and will work well. Microsoft Office PowerPoint is available upon request.