Bundle and Save
By Combining your projector rental with other rental equipment you can
save up to 15%!
Common Projector Rental Bundles:
Fill out a quote below and find out how much you can save by bundling
Projector and Laptop Rental Bundle
Projector and Screen Rental Bundle
Projector and Sound System Rental Bundle
Projector and Microphone Rental Bundle
Projector and Lecturn Rental Bundle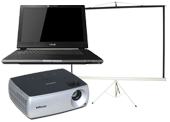 Projector, Laptop and Screen Rental Bundle
- Rent Our Projectors offers a complete presentation combination rental that includes a projector, a compatible laptop with presentation software, and a screen to project onto. This combo is perfect for traveling presenters. All your presentation technology needs can be satisfied with a single point of contact and all equipment is delivered wherever you need it, whenever you need it.
This is a great option for presenters who do not own their own equipment. By getting a
Projector Combination Rental
you dont have to purchase expensive equipment and you dont have to worry about making travel arrangements to get your presentation gear on site. And when you are finished all you need to do is send it back, its that easy!
Savings are subject to availability, brand, type, and specifications. Contact your Tech Travel Agent for more information.