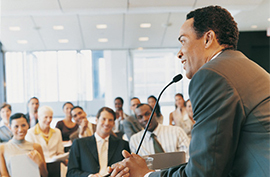 Get A Breakout Room Projector Rental Quote
Breakout Room Projector Rentals
Specific Conference & Convention Classes
We are your one stop for Breakout Room projector rentals!
If you've attended a large event, you may have been given the opportunity to participate in one of several conferences which are all happening at the same time. These conferences, also known as breakout rooms, are great ways to discuss specific elements centered around the main event.
Of course, it would prove difficult to show all of the vital information using only a marker and whiteboard. If you plan on having breakout rooms for your event, you'll want projector rentals to display slideshows and spreadsheets which will move along the group discussions.
Breakout rooms are great for creating group synergy and creative thinking, and if you're hosting a large event consider implementing breakout rooms equipped with a few projectors. If done right, breakout rooms can leave your attendees both impressed and informed.
Common Projector Rentals For Breakout Rooms
Experienced. Reliable.
With almost 30 years in the projector rental industry, the agents at RentOurProjectors.com have the experience and knowledge to handle your Breakout Room projector rental needs from start to finish. Our customer service and reliability is what sets us apart from the other rental companies.
888-736-8301
---